Next Generation Technology Air Cooled Reciprocating Vacuum Pumps - Oil Lubricated
Stronghold Corporation offers Piston Vacuum pumps – oil lubricated manufactured by Anest Iwata Motherson for best value for money and with the latest technology.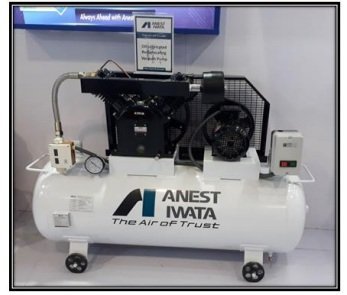 Major Applications:
Hospitals
Dental
Laboratories
Vacuum Impregnation
Food Processing
Paper & Printing
Chemical
Packaging
Glass
Dairies etc.

Salient Features: 
Cast iron design for durability and long life
Special honing of cylinders resulting in low friction betwwn cylinders and piston rings.
Compact and easy to install – No foundation required.
Low noise – ideal for hospital applications.
Higher efficiency resulting in power savings.
Low oil carry ofver and low maintenance cost..

Reciprocating piston vacuum pumps achieve 745mm(29"Hg) vacuum at sea level for single stage configuration. 

These vacuum pumps, oil lubricated come with different supply options : Complete functional unit base frame mounted with or without electrical.

Optional accessories : Vacuum Gauge, Vacuum Switch, Silencer, Vacuum Tank and Line Filter.

We are authorized dealer of Anest Iwata for Oil Lubricated Air Compressor, Oil Free Compressor, Vacuum Pumps, Air Dryer.